What are you looking for in your beach experience on Patmos Island Greece? Do you prefer neat, organized beaches or something more natural and intimate? Do you need a beach with lots of water sports or something fun for the whole family?
Maybe something close to your Patmos hotel? With so many Patmos beaches, there's bound to be something for every beach experience. Here are 10 Patmos beaches to enjoy during your holiday.
Agios Theologos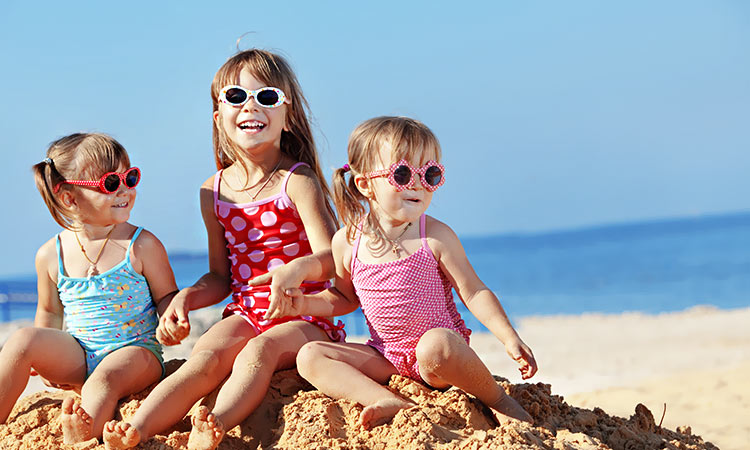 Agios Theologos, or Skala Beach, is located in Skala Bay, so if your Patmos accommodation is in Skala, Patmos, this is definitely a beach worth visiting. It's a beautiful sandy beach, left unorganized so you can appreciate all its natural beauty. However, if you're looking for a little shade, cafes right by the shore have umbrellas so you can enjoy both shade and sea as you sip your coffee. There are also Tamarisk trees for shade. The water is rather shallow and calm, so this is a great family beach where the kids can enjoy a swim. The beach earns its name from the Agios Theologos church nearby, dedicated to St. John of Patmos.
Meloi
The closeness to Skala, Patmos — just 2km from the port and therefore easier to access — makes Meloi a popular choice amongst Patmos beaches. This is a sandy beach surrounded by Tamarisk trees, and like its near neighbor, Agios Theologos, it is left unorganized. There are nearby amenities, including a tavern, mini market, restaurant, and a campsite. There's also a shallow dock. There's not much in the way of water sports, but it's a peaceful beach that's great to visit alone or with the family.
Agrio Livadi
Agrio Livadi, sometimes called Agriolivado, is just 1.5km from the main port of Skala. The shore of this beach combines both sand and pebbles, and the warm shallow waters are perfect for those with small kids. This is an organized beach, but there are more secluded coves accessible by boat if you want to get away. With strong waves and an excellent location, this is a great spot for water sports.
Grikos
Grikos beach is in between Skala and Chora, the capital of Patmos, Greece. It's easy enough to reach and, though quiet, the beach is actually the longest on Patmos island. It is somewhat organized, with umbrellas where you can relax in the shade, but this sandy beach retains much of its natural beauty. The beach is mostly protected from extreme weather, making it an ideal spot for boats and jetties. There are numerous cafes, taverns, and restaurants either along the beach or within a short walking distance.
Kambos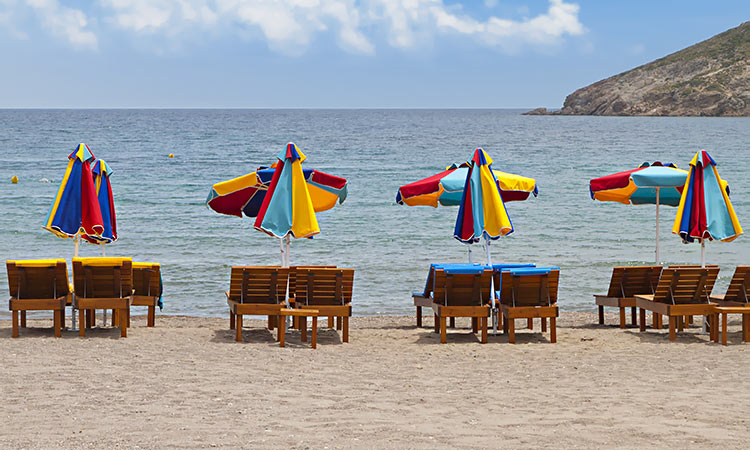 Kambos is one of the most popular beaches in Patmos, Greece. Organized and cosmopolitan, this is the beach you want to visit if you want to both soak up some sun and mingle with others. It has beautiful weather and calm weather, so it's both safe for families and a fun place to enjoy some water sports like windsurfing, paragliding, and sailing. This bus can be reached with ease by bus from Skala to Kambos. There are tavernas nearby, including one where you can, according to tourists and locals, try some of the best lobster on Patmos island.
Vagia
11km from Skala, Vagia beach is secluded and intimate. It can be reached by boat from Skala or by car. You can also take the bus to Kambos and walk the rest of the way, just 1km. There's a small cafe along the way where you can grab a bite to eat before you hit the beach. Finally you'll come upon a peaceful pebbled beach with plenty of trees for shade. The water is cold, but the view is stunning.
Ligginou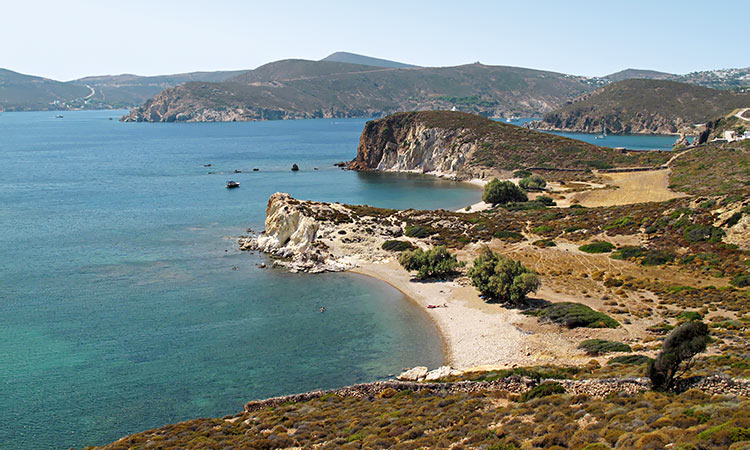 More commonly known as Didymes (The Twins), this beach is not really one but two. They're located in identical coves, giving them a quirky but peaceful ambiance. They're most accessible by a small dirt road off Vagia beach. Despite the name, one cove is a bit larger than the other, but it doesn't take away from the splendid views. The shores are composed of a mixture of pebble and sand.
Lambi
Not only is Lambi beach a pebbled beach, it's well known throughout Patmos, Greece and elsewhere for the multi-colored pebbles that make up its unique shore. When the sunlight reflects off this shore, it creates a lovely sheen which earned this island the name meaning shining. There's a great tavern on the beach that offers a wide variety of local dishes. Nearby are also the remains of Platis Gialos and the Church of the Transformation. These are important sights in Patmos and an absolute must for your family holiday album. This beach is most accessible by boat from Skala, but it's also a 25 minute walk from the bus stop outside of Kambos.
Geranos
This beach, also known as Geranos Livadi, is a good distance from Skala but well worth the visit and beloved by tourists from all over. Here, the water is not just crystal blue but a deep, mysterious turquoise. It's left unorganized, but shaded by nearby trees and protected from rough summer winds. It's perfect for swimming, with Panagia Geranos and its courtyard close. You can swim there and watch the sunset go down, or grab some food at the nearby tavern.
Psili Ammos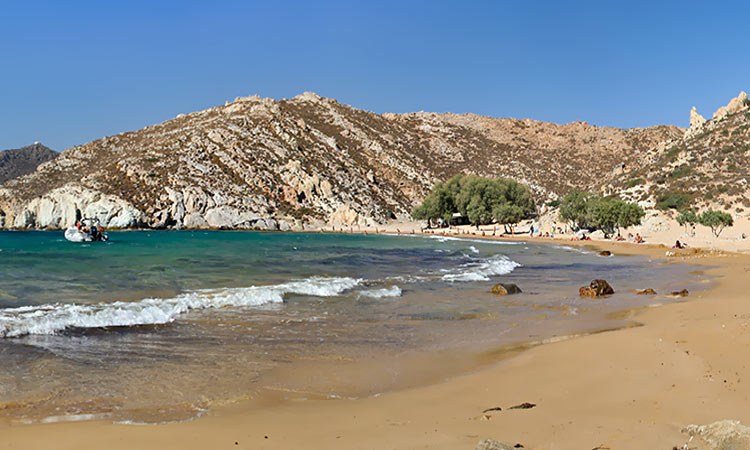 Psili Ammos, true to its name, is full of fine golden sand against deep blue waters, and considered one of the best Patmos beaches in Patmos, Greece. There are beautiful dunes nearby as well as tamarisk trees for shade, but it's the clear water that's the main appeal to this beach. There are windy days that make Psili Ammos a great place for water sports, as well as calmer, more peaceful days.There's a family run tavern on the beach serving delicious food for both lunch and dinner. This beach is rather out of the way, but it can be reached at about a 20-30 minute walk from Kambos or a 40-60 minute boat ride from Skala.
Still looking for Patmos hotels? Consider Chris Hotel. Located in Skala, you'll be within close distance of some of the best Patmos beaches on the island, and a boat ride away from the others. We offer lovely, comfortable rooms and ocean views from our own hotel cafe. It's a great way to start your day before heading out.
Book your room today and start planning your trip to Patmos, Greece, but more importantly, to Patmos beaches.