Map of the island of Patmos & Hotel Location
Chris Hotel Patmos (Skala) - Map & Location - Experience the island of Patmos
Ways of geting to island of Patmos
In order to get to island of Patmos there is daily connection with the port of Pireaus by boat (of Blue Star Ferries company). The journey lasts 8 hours. There is also a catamaran (of Dodekanisos Seaways company) that connects Patmos with the ports of Leros, Kalymnos, Kos and Rhodes on a daily basis too. In addition, Patmos island is connected with the ports of Leros and Samos with daily flying dolphins. Finally, the quickest way to visit the island of Patmos is by plane travelling to the airports of Samos, Leros, Kalymnos and Kos.
Chris Hotel Location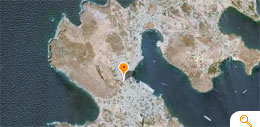 Our Location On GMaps
Chris Hotel is situated in an ideal location in the centre of the island of Patmos, on the port of Skala. Close to the hotel there is a supermarket (30 metres), a bus station (150 metres), a taxi station (100 metres) and a pharmacy (30 metres) to cover your most urgent needs and next to the hotel there is also a public parking lot. Opposite the hotel there is a lovely beach if you want to enjoy the sea water somewhere near. As for the rest of the beaches, there are, in a short distance too, some of the most famous beaches of the island such as Kambos (6 km), Agriolivadi (4 km) and Grikos (4 km). Opposite the hotel there is the anchorage of small vessels which can take you daily on a short boat ride to beaches or smaller islands around Patmos, like Arkioi, Lipsi, Psili Ammos and Marathi. If you dispose your own private boat, then you can anchor in the port of Skala. There you can find refueling and water facilities. The island of Patmos is famous for the Monastery of Saint Christodulos (4 km) and the Cave of the Apocalypse (2 km) which are worth visiting! And as holidays are strongly associated with enjoyment, close to our hotel there are traditional tavernas with delicious local dishes by the sea and plenty of cafes and bars.
Information about the Island of Patmos
Patmos, known as the island of the Apocalypse, is a religious centre of worldwide interest and has been declared World Heritage Site by UNESCO. The first and major attraction that appeals to the visitor is the famous Cave of the Apocalypse. In this particular Cave the Book of Revelation was written by Saint John the Theologian. There is also the Monastery which Saint Christodulos built to honour Saint John the Theologian. Finally every July the International Film Festival is held and every September the Religious Music Festival takes place in the open-air area of the Cave of the Apocalypse.