Planning a holiday to perhaps the most sacred island in the whole of the Aegean Sea? Patmos has the beauty and history characteristic of Cycladic islands, as well as traits that are remarkably its own. A trip to Patmos, Greece is unlike any other holiday you can take this summer. Here we'll discuss what you want to know about Patmos before you go, as well as what you can do and what you should look for in Patmos accommodation.
The "Holy Island"
When someone calls Patmos, Greece the "holy island," it's not just hyperbole. It was actually deemed so by Greek Parliament in 1981, as well as made into a World Heritage Site by UNSECO in the late 1990s. But thousands of years ago, no one would have expected that Patmos island would one day be deemed a holy site. Back then, it was simply where the Romans sent their exiles. It was steep and rugged, giving the exiles a true sense of isolation. Then one exile arrived at Patmos and put it on the roadmap of history. That exile? John of Patmos, the writer of The Book of Revelation.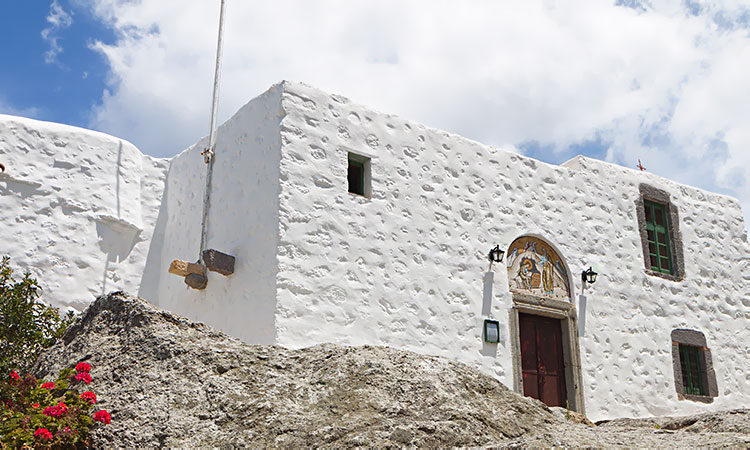 Here Saint John sought refuge in the Patmos Cave of the Apocalypse, where he received the revelation from visions and the voice of God. It's for this reason that Patmos, Greece gained its fame, and it's still a popular pilgrimage for Christian travelers.
What to Do in Patmos, Greece
Obviously, one of the biggest tourist attractions of Patmos, Greece is the Cave of the Apocalypse, now a museum where visitors can see everything from the rock on which Saint John rested his head to sleep and the crack in the ceiling through which many believe he received his vision. There's also the Monastery of St. John the Theologian built in 1088, which houses hundreds of ancient manuscripts, relics including the skull of St. Thomas, and classic Byzantine artwork. This monastery is positioned high on a hill, with strong walls surrounding it, once made defensible against Turkish pirates that threatened Patmos island.
The city of Chora itself, still the capital of Patmos, Greece, is quite a sight with winding narrow streets and traditional whitewashed architecture. Here it can feel as if you've stepped into the Byzantine past. The chic Agia Levia square is also a perfect place to get a cup of coffee and relax or enjoy some of the gift shops. Hiking along the rugged walking paths of Patmos is also a popular activity.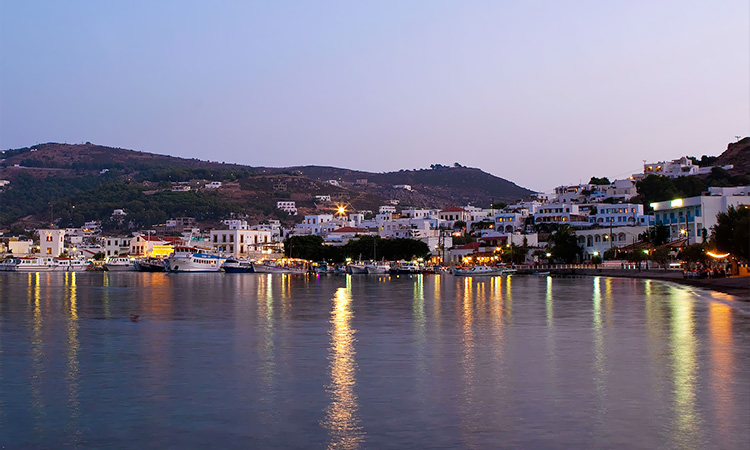 Skala, Patmos is the port village of Patmos island and offers many interesting and artistic bars, cafes, and restaurants as well as shops. If you want an ocean breeze and lively activity into the night, Skala is the place to be. There are also many Patmos hotels to be found in Skala, because of the excellent ocean views. And of course, a short boat ride to the best beaches of Patmos island makes your Greek holiday complete. The beaches are clean and the waters are crystal clear, and water sports are growing in popularity here.
So there's plenty to do both by land and sea at Patmos island. The next question, of course, is where to stay.
Where to Stay in Patmos, Greece
There are plenty of hotels in both Chora and Skala, Patmos, but Skala tends to be the more popular location. As the main port village, it's conveniently located for travel, dining, and many tourism opportunities. You won't miss out on any of the sights in Chora by staying at Skala, either, as it's only about 2km from Chora and the Cave of the Apocalypse.
In searching for your Patmos hotel, consider Chris Hotel in Skala. Chris Hotel has the perfect location for relaxation, and our 24/7 cafe and bar on the waterfront is proof. We're also close to a number of shops and restaurants and the biggest tourist spots, including the Cave of the Apocalypse. Book your room today to begin preparing for your Patmos island experience.