Greek Island cuisine is known everywhere in the due to the wide variety of high-quality ingredients with healthy combinations due to centuries of practice. Greek Island foods can be said to be atop the table of global cuisine.
If Patmos island Greece is not among the islands you want to visit, then you should include it right away. If not for any other reason, for the local delicacies and cuisine you can try out when you visit there. Apart from being popular as a religious tourist island, Patmos, Greece also excels as a place to enjoy native Greek Island cuisine. The taverns in Patmos cook healthy meals using Greek's traditional methods. What more? There are always souvenir stores where you can purchase local arts and craft products to serve as a reminder of your trip to Patmos, Greece.
Some of the local seafood dishes available in Patmos are made from fresh octopus, squid, and fish. However, despite meat rarely being included in the diet, a typical Patmian dinner which includes meat is made up of goat meat 'kapama,' stewed lobster, rooster cooked in wine and stuffed vine leaves.
Patmos food does not only involve full course meals and dishes, but there are also traditional sweets which can be served as deserts. Some of these are: 'apidakia,' (a pear-shaped sweet made with honey and nuts), Sviggoi (fried batter puffs drizzled with local honey), Amygdalota (marzipan cookies), and dimples (fried dough strips). Some of the notable meals are listed below:
Patmiotiki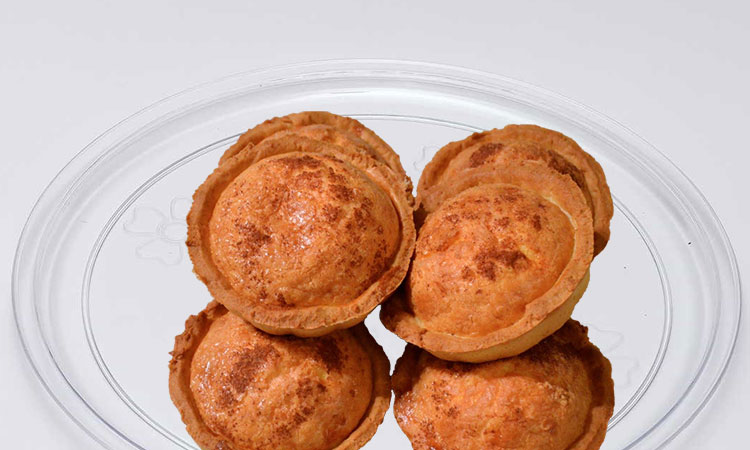 This is Patmos' traditional cheese pie. No wonder it is called Patm(i)o-tiki! It is what replaces the apple pie we enjoy anywhere else. It is made by putting together different types of cheese in a fluffy crust. The minimum number of cheese to be used is three.
Pouggia
This is a desert, not a meal. It is a sweet dessert made from unleavened bread dough with almonds and walnuts inside it. The dough top is then sprinkled with sugar. It can both be baked and fried depending on preference.
Thyme honey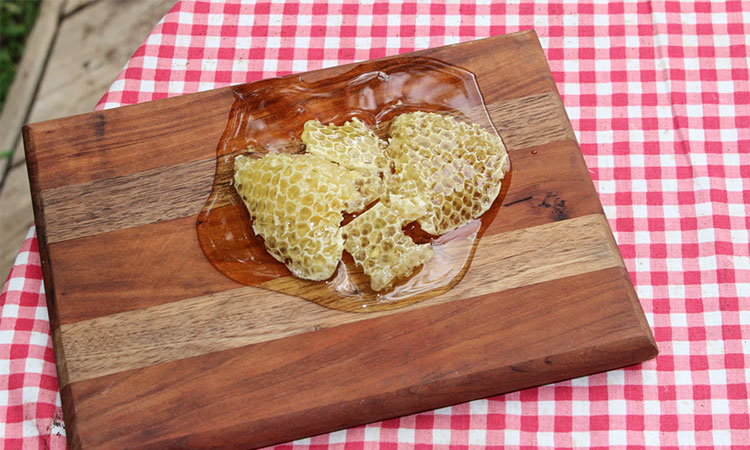 This is another Greek Island food very popular in Patmos; it is a traditional product which combines natural sweetness with a burning sensation at the back of the throat. This sense of burning is due to the thyme.
Kalamaria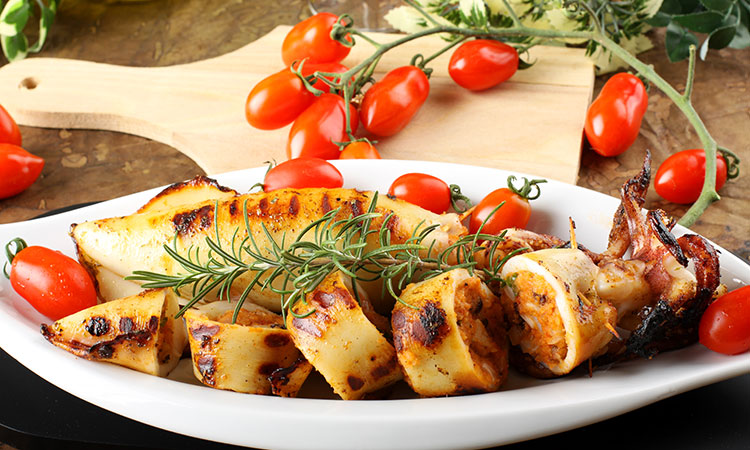 This can simply be referred to as stuffed squid. This is among the variety of ways to cook squid in Greece. The fillings vary from bread crumbs to Parsley and other leaf vegetables. It will then be grilled after dipping it in pampering quantity of local olive oil. If you love seafood lover, you should try this Greek Island Cuisine.
Kalathatos Cheese
This is a locally manufactured cheese in Patmos. It is hard in texture and made from full-fat sheep and goat milk and served with white or red wine. There are thin chances of getting to eat this outside of Patmos since the production is not enough for Patmos yet Mizithra made of seawater and goat cheese. The full-fat sour goat cheese is left to mature in seawater and served sizzling hot. It lasts not more than five days after production.
A good Patmos food is incomplete without drinking some wine. There a huge variety of wine flavors to select from. So, if you are a wine lover, never forget to liven up your taste buds with some fresh wine when you visit Patmos!
If you need a place to lodge and try out any of these local Patmos foods, it is right at the Patmos Chris hotel. Apart from this Greek Island's food, another thing to watch out for are the local products available in shops all around Patmos Greece. You can shop items for personal use such as shoes, clothing, and Jewelries; and art products and supplies you can keep as reminders of the unforgettable trip you will have when you visit Patmos Greece.
Do not be bothered about where to stay as there are Patmos Hotels are always at alert to accept you. One of the hotels in Patmos Greece is the Patmos Chris hotel where you can lodge and spend the day touring the villages instead.